KIDS WEBS
Every Wednesday, from 01/08/2020 to 08/19/2020, 6:00 PM - 7:00 PM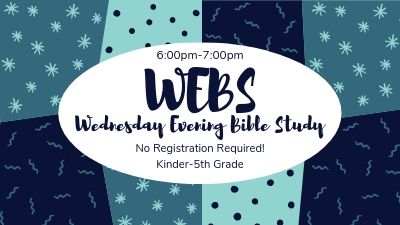 W.E.B.S. which is our Wednesday Evening Bible Study for kids.
AGE GROUPS
SCHEDULE
January-August
WEDNESDAYS
6:00 p.m. - 7:00 p.m. / / Central Town Square
LESSONS
The three classes listed below are each 4-week sessions which kids, Kinder through 5th grade, will select from. Kids will have the opportunity to participate in each class.
Armor of God
Scripture is using armor that is used for physical battle as a metaphor to teach us how to live as Christians and how to respond and treat each other.
Bible Ninja
Ninjas continually train to hone their skills and to be the best warriors they can be. If we train ourselves in the wisdom of the Bible we will be ready for whatever life throws at us.
The Dog Ate My Homework
Being successful in school and in life depends greatly on your character. If you choose to walk with God, commit to be a person of integrity, and refuse to take the easy way out, you will go far.
Contact information
Need additional information? Have questions? Contact us at or 979-776-9977.