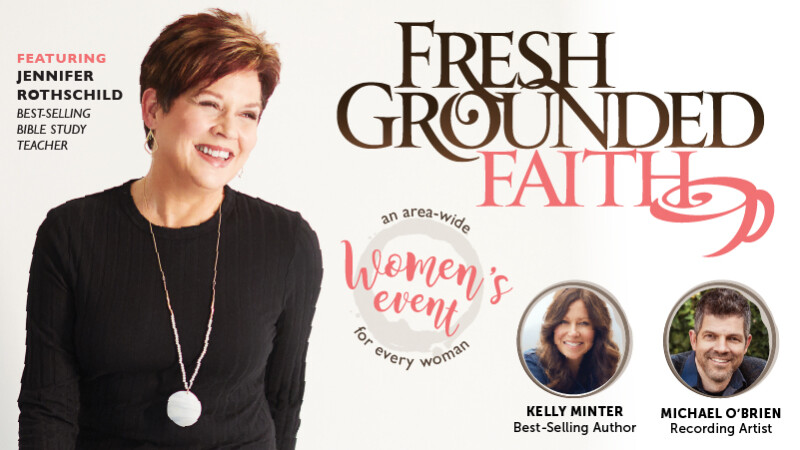 Fresh Grounded Faith
---
Imagine a coffee shop feel on stage, and being greeted and loved on by sisters from all over the Brazos Valley who attend different churches. Imagine feeling welcome and wanted, comfortable being who you are. Imagine meeting up with your friends or meeting new friends who are just like you.
Imagine learning Scripture and being able to make it real in your life. Imagine joining with hundreds of women reaching out and up to the God who loves you and singing your heart out or just sitting in quietness before Him.
Imagine that it doesn't matter who you are, where you've been, how much you weigh, what you're wearing, where you worship or what you've done. Imagine that you experience love, hope, and acceptance in a grace-filled zone.
If you can imagine that all that is possible, then you can imagine what a Fresh Grounded Faith Conference feels like!
You are welcome. You are wanted.
---
Conference schedule
October 14 // 7:00pm – 9:30pm
October 15 // 9:00am – 12:30pm
Invite a friend & register today!
Founded by Jennifer Rothschild, Fresh Grounded Faith is all about real women, relatable stories, and relevant truth. At every conference, you'll find accessible, practical Biblical teaching, real life, relatable stories, and an intentional blend of current & classical worship music.
Jennifer Rothschild, Recording Artist & Author
"We walk by faith, not by sight." That phrase has echoed through the ages. For Jennifer Rothschild, the words are much more than a verse in the Bible; they reflect how she lives her life. They represent a foundation upon which many life lessons have been learned… in the dark.

At the young age of 15, Jennifer was diagnosed with a rare, degenerative eye disease that would eventually steal her sight. It was more than a turning point, as her dreams of becoming a commercial artist and cartoonist faded while words and music replaced her canvas.

She is the author of 17 books and Bible studies, including the best-selling Lessons I Learned in the Dark and the DVD-based Bible study Take Courage: A Study of Haggai (LifeWay). Jennifer is also the founder of Fresh Grounded Faith events for women. She resides in Springfield, Missouri with her husband of 30 years, Dr. Philip Rothschild, and their diva dog, Lucy.
Kelly Minter, Author, Speaker & Musician
Kelly Minter is an author, Bible teacher, and podcaster. Her most recent Bible study from Lifeway publishers is called Finding God Faithful: A Study on the Life of Joseph. Kelly speaks around the country and also works closely with Justice & Mercy International in the Amazon jungles of Brazil as well as the Eastern European country of Moldova.

Kelly is deeply passionate about teaching the Bible, and believes it permeates all of life. Her love for the Word of God led her to create her Cultivate Event, an event centered around Scripture, worship, prayer, and mission. She is also the host of the Cultivate podcast, a weekly podcast where she walks through Scripture with her listeners.

When she's not writing, traveling, or speaking she enjoys time in her garden, cooking, and being with her friends and family. A Southern transplant, she delights in long walks, her local church, meaningful conversation, and coffee in her Justice & Mercy International diner mug.
Michael O'Brien, Recording Artist
Michael spent years as the lead singer for Newsong and has been an important part of Fresh Grounded Faith events for over a decade. His concerts range from an upbeat message of praise, to sharing his heart about his own failures in the past, to sharing the gospel. Michael has launched his own marriage enrichment date nights and weekend events called Tour De Romance.

Michael has had several number one hits and has produced five CD's including his most recent project release Psalms, Hymns and Spiritual Songs.
---