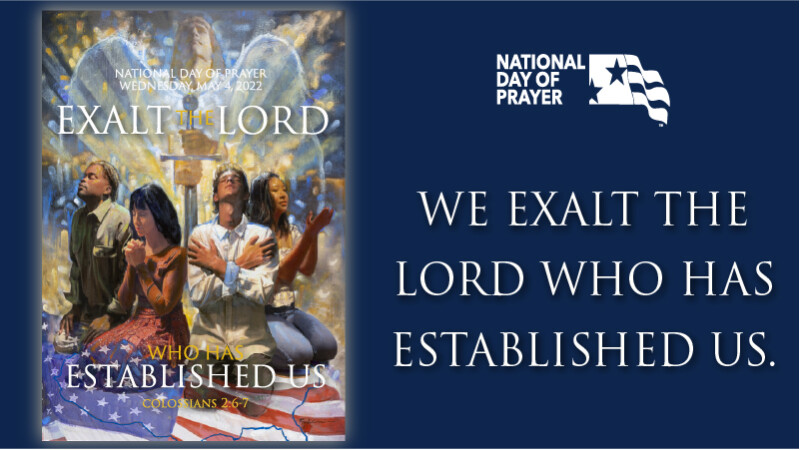 Prayer Walk
---
The National Day of Prayer belongs to all Americans. It is a day that transcends differences, bringing together citizens from all backgrounds. Join us for a prayer walk as we humble ourselves before God, seeking His guidance for our leaders and His grace upon us as a people. A series of prayer stations will be set up with prompts to guide you through the prayer walk.
The 2022 National Day of Prayer theme prays: "Exalt the Lord who has established us." from Colossians 2:6-7, "Therefore, as you received Christ Jesus the Lord, so walk in him, rooted and built up in Him and established in the faith, just as you were taught, abounding in thanksgiving."
About the National Day of Prayer
Because of the faith of many of our founding fathers, public prayer and national days of prayer have a long-standing and significant history in American tradition. The National Day of Prayer is a vital part of our heritage. Since the first call to prayer in 1775, when the Continental Congress asked the colonies to pray for wisdom in forming a nation, the call to prayer has continued through our history, including President Lincoln's proclamation of a day of "humiliation, fasting, and prayer" in 1863. In 1952, a joint resolution by Congress, signed by President Truman, declared an annual national day of prayer. In 1988, the law was amended and signed by President Reagan, permanently setting the day as the first Thursday of every May. Each year, the president signs a proclamation, encouraging all Americans to pray on this day. Last year, all 50 state governors plus the governors of several U.S. territories signed similar proclamations.
---