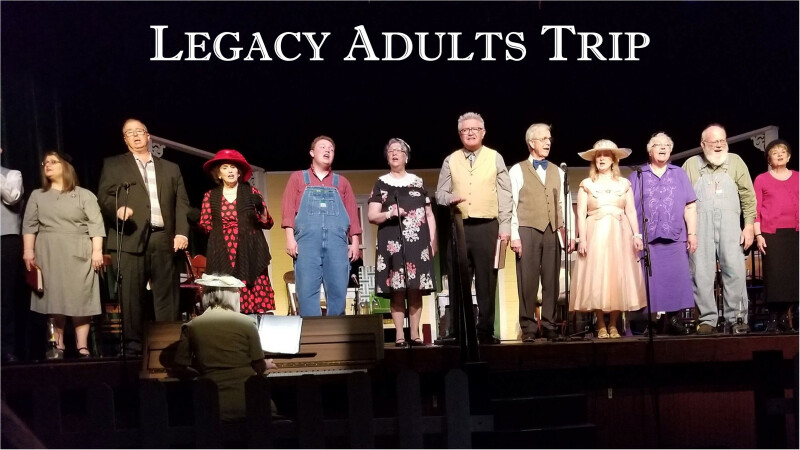 Legacy Adults Trip - Waxahachie's Old Fashioned Singing Project
---
Come and Sit a Spell at
Heaven's Front Porch
A production by Waxahachie's Old Fashioned Singing Project
Meet at Central at 9:00 to ride the bus or caravan in your own car. We will eat lunch in Waxahachie (buy your own) before heading to the 2:00 show.
Central is purchasing group tickets so we can all sit together. To register for your ticket(s): CLICK HERE
***Seating is on wooden slatted benches with backs. Feel free to bring a cushion or quilt for your comfort***
Description from their website:
The hour-and-forty-five-minute staged show features the southern congregational songs from the first half of the twentieth century performed by a 15-member vocal ensemble with live instruments, very much in keeping with what might have been heard here in this building's first years. At times, you will be invited to join the singing of familiar favorites.
You'll hear quality arrangements of several well-known hymns and gospel songs as well as some less-familiar tunes which enjoyed great popularity at another time in our rich history of congregational singing – especially in the southern United States.
This is not exactly a concert… it's not a sing-along… it's not just a show with a plot or story-line. Waxahachie's Old Fashioned Singing is unique in its format and its setting. Our goal is to be musical, historical, spiritual – and great fun!
The onstage cast is made up primarily of auditioned singers and musicians from Ellis County and contiguous counties in North Texas... with a few from further away, two even Louisiana!
---