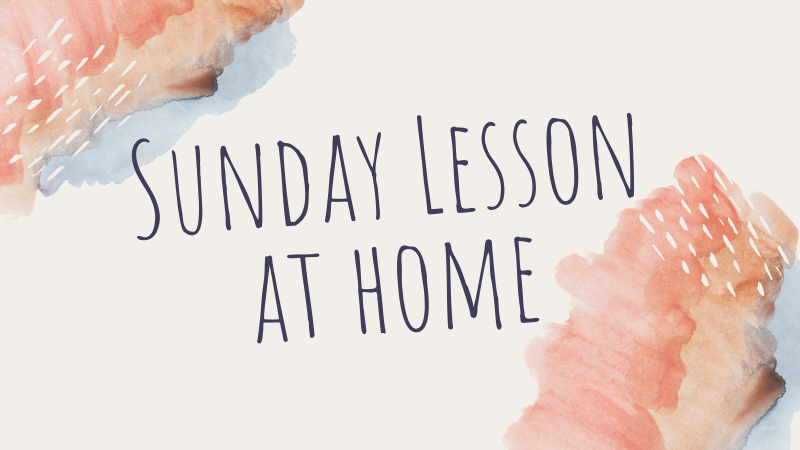 Parents,
The Kids Ministry has opened back up! For those ready to attend, please be sure to pre-register your child weekly by checking out our Sunday Morning page. We will continue to post lessons for families that are not ready to return or cannot attend every Sunday.
October 25
Central Kids Gazette

During the 11:00 AM service kids will be attending worship with parents and to help kids stay engaged each Sunday we will be providing the Central Kids Gazette that will allow your kids to follow along during the service. We will also have the Gazette available to pick-up each Sunday at the Kids Ministry front desk.
Unit 24: Jesus the Miracle Worker
Unit Memory Verse:
"Many, Lord my God, are wonder you have done, the things you planned for us. None can compare with you; were I to speak and tell of your deeds, they would be too many to declare." Psalm 40:5
October 25: Jesus Fed a Crowd
Jesus' disciples had been working hard, teaching people and healing them. Jesus called them to go away with Him to a desolate place so they could rest. By now, Jesus' popularity was so great that finding a place to be alone was difficult. When Jesus and His disciples crossed the Sea of Galilee, the crowd of people were already waiting for them on the other side.
Jesus saw the crowds, but He wasn't frustrated or angry. He didn't tell them to go away. Instead, He had compassion on them because they were lost—like sheep without a shepherd. Jesus is the Good Shepherd who seeks and saves the lost. (See Luke 19:10; John 10:14.)
The miracle Jesus performed that evening—feeding 5,000 men plus women and children—is the only miracle during Jesus' earthly ministry that is recorded in all four Gospels. The same God who provided manna for the Israelites in the wilderness multiplied loaves and fish to satisfy the crowd.
But Jesus' didn't intend to only meet people's physical needs. He came to satisfy their spiritual needs as well. In John 6:35, Jesus said, "I am the bread of life." He said that no one who comes to Him will ever be hungry, and no one who believes in Him will ever be thirsty again.
Jesus is the bread that came down from heaven. (See John 6:41.) God provided His Son as the perfect sacrifice to take away our sins. At the first Lord's Supper, Jesus broke bread—a symbol of His death on the cross. (See Matt. 26:26.)
By feeding the five thousand, Jesus provided for the physical needs of the crowd. The next day, Jesus called Himself the bread of life. (John 6:35) Only Jesus is able to satisfy our souls forever by providing forgiveness, peace with God, and eternal life.
As you share with your kids, help them know that God can and will provide for our needs. Kids can trust Him for their "daily bread." (See Matt. 6:11.) God met our greatest need in giving us salvation through Jesus.

Bible Story

Questions from Kids
Printable Materials
Bible Story
Kinder-2nd Discussion Questions
Kinder-2nd Activity Sheet
3rd-5th Discussion Questions
3rd-5th Activity Sheet
October 18: Jesus Calmed a Storm
After a long day of teaching, Jesus and His disciples got into a boat to cross over to the other side of the Sea of Galilee. When their short sailing trip was interrupted by a violent storm, the disciples found themselves in danger with nowhere to turn—except to the One who created all things.
Several of the disciples were experienced fishermen. They had spent significant time on the Sea of Galilee, but this storm was so strong that the waves overtook the boat. The disciples were afraid they would drown. As the disciples panicked, what was Jesus doing? He was sleeping!
The disciples woke Jesus. The situation was out of their control, and perhaps they felt forsaken by God. But their reaction was full of irony: "Teacher! Don't you care that we're going to die?" (Mark 4:38).
The disciples obviously did not know why Jesus had come to earth. Jesus had come to rescue people from sin. In dying on the cross, Jesus would truly be forsaken by God. (See Matt. 27:46.) Jesus would die the death the disciples—and all sinners—deserve so that they could live forever with God. Did Jesus care that the disciples were going to die? Absolutely. But He was going to rescue them from something worse than drowning. Jesus would save them from spiritual death.
Jesus calmed the wind and the waves. He displayed His power over creation and demonstrated that He is truly God. God has power over the wind and the waves. (See Job 12:15; 28:25; Ps. 33:7; 107:25-30; Amos 4:13.)
Jesus' disciples knew Jesus was a good man and a good teacher. But when Jesus calmed the wind and the waves, He showed His disciples that He is also God. God rules the sea and stills its waves. (Psalm 89:9)
As you talk with your kids, seize the opportunity to share the gospel. Help them understand the truth the disciples did not yet fully grasp. Who is this man? He is the Messiah, the Savior, and the Son of God.

Bible Story Video

Questions from Kids Video

Missions Video
Printable Materials
Bible Story
Kinder-2nd Discussion Questions
Kinder-2nd Activity Sheet
3rd-5th Discussion Questions
3rd-5th Activity Sheet
Games
Memory Verse Scramble: Write the memory verse on the back of a puzzle. Write one or two words per piece. Then, race to see who can put the puzzle back together.

Roll It Bible Verse: Write out the verse leaving out a few key words. Write the key words on a dice (can be homemade). Kids take turns rolling the dice to try and be the first person to fill in all of their verse.


Memory Verse Games
Memory Verse Game: Bible Berserko
Bible Story Review Games

Books of the Bible Game: Create a hopscotch with the books of the Bible. You can also use the same idea and write out each word of the Bible verse. Then, as kids do the hopscotch they say the verse.
Youtube Video by David Rausch