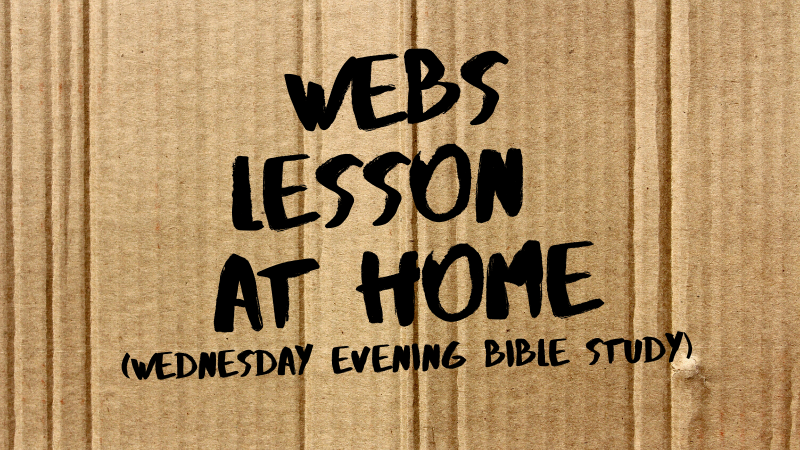 Parents,
Below you will find complete lessons for the days that your child will miss WEBS (Wednesday Evening Bible Study).
Click on the video link below for the lesson of the week. The lesson includes music, activities, a Bible story, and discussion questions.
June 17: Self Control
Proverbs 25:28
Be sure to check out the discussion questions at the bottom of the page.
June 10: How Do I Pray?
1 Thessalonians 5:17 Never stop praying.
Be sure to check out the discussion questions at the bottom of the page plus the link below on the 5 Finger Prayer.
5 Finger Prayer
June 3: The Good Samaritan
Luke 10:27 Love your neighbor as yourself.
Be sure to check out the discussion questions at the bottom of the page.
May 27: Paul Teaches in Athens
Dive into the story of Paul teaching in the city of Athens and discover that God created the heave and earth and made everything in it.
May 20: Sermon on the Mount: Prayer
In a time of so much uncertainty, it's nice to know that God still hears our prayers. Join us as we explore the Sermon on the Mount and discover what Jesus tells us about talking to God.
Verse: Matthew 7:7-11
May 13: It's Good to Worship God with Others
Explore the story of King David leading his people in worship and discover why it's good to worship God with others!
Verse: 1 Chronicles 16:9
May 6: Jesus' Power Lives in Us
Discover that Jesus' power wasn't just something that happened in the Bible . . . Jesus continues to show power in our world today!
Verses: Act 2:1-12
April 29: Jesus' Power Brings Hope
Journey through the story of Jesus' bring Lazarus back to life in John 11 and discover and discover how Jesus' power brings us hope, even in the midst of a global pandemic.
Verse: John 11
April 22: Jesus' Power Helps Us When We're Lonely
Journey through a Bible story of a man who had a leprosy and couldn't be around others. Then discover how Jesus' power helps us when we are lonely.
Verses: Matthew 8:1-3
April 15: Empowering Courageous Kids Video
Jesus' Power Takes Action
Dive into a Bible story where Jesus heals a man who couldn't walk and discover that Jesus' power takes action.
Verses: John 5:1-9
April 8: EASTER
Take time to celebrate how Jesus defeated sin and death and discover how Jesus' power means we don't have to fear death.
Verses: Matthew 27:33--28:10
April 1: Empowering Courageous Kids Video
Jesus' Power Calms Our Fear
Address kids fears head on by exploring how Jesus' power calms our fears.
Verses: Mark 4: 35-41
March 25, Armor of God
Memory Verse: Ephesian 6:11
Read Ephesians 6:10-18.|
Discussion
Discuss what each piece of armor stands for. If you would like to go more in-depth check out the information at: https://answersingenesis.org/kids/bible/the-armor-of-god/
Helmet of Salvation: This protects our minds from the attacks of the enemy. As we learn more about salvation by studying the Bible, we begin to think more like Jesus. And the way we think influences the way we talk and act, so it's important to guard our minds.
Belt of Truth: The Lord wants us to be truthful inside and out. We are to tell the truth and speak truthfully with everyone.
Breastplate of Righteousness: Righteousness means doing right in God's sight. When we obey God's commands in the Bible, we are acting righteously.
Sandals of the Gospel of Peace: When we put on the shoes of the gospel of peace, we are preparing to tell others the good news that we can have peace with God through believing in Jesus.
Shield of Faith: When we take up the shield of faith, we are firm in our beliefs about God based on His Word, and we can detect all the arrows our Enemy throws at us.
Sword of the Spirit: The weapon we use to attack our enemy is the sword of the Spirit which is the Word of God, the Bible.
Discussion Questions
Who wrote Ephesians 6:10-18?
Why do we need to put on the Armor of God?
Why is it important to read the Bible?
Name each piece of armor.
Object Lesson
Supplies needed: 2 oranges and a clear container of water
Place both oranges in the bowl with their 'armor' on. (keep the skin on the orange) Talk about how the oranges are floating or 'standing firm' in the water. Little by little, begin peeling away some of the 'armor' (skin) of one of the oranges. Have each portion you peel off represent a portion of his armor (this orange forgot his belt of truth). Place the orange back in the water and notice that it begins dipping further in the water than the orange still wearing all its armor. Continue peeling the orange, placing it back into the water after each piece, talking about how not having the pieces of armor might affect his day. Challenge your children to think purposely each day about putting on each piece of armor.
Printable Activities
Word Search
Word Search 2
Word Scramble
Coloring Page
Crossword Puzzle
Fill in the Blank
Dot to Dot
Game
Shield of Faith Game: Write out different situations or temptations that Satan might use to tempt us to loose faith. Roll them up and put them in the end of nerf bullets. Then, create a 'Shield of Faith' and shoot the bullets at the shield to show how the shield will protect against Satan. When we have faith in Jesus Christ and God's plan for us, it protects us from temptations of the world. We are able to stand up for our beliefs and not be hurt by sin.
Craft
Create each piece of armor using materials around the house.
Snacks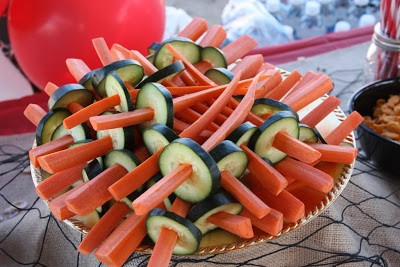 Sword of the Spirit from carrots and cucumbers.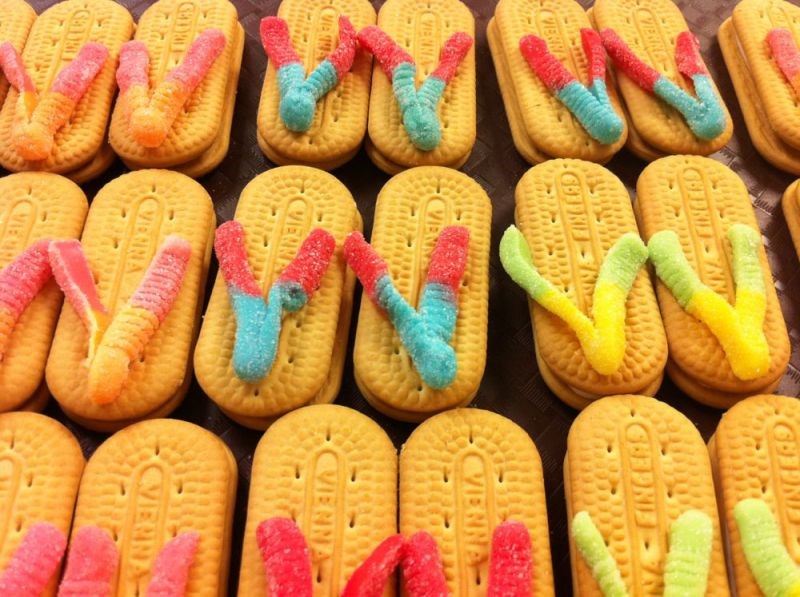 Sandals of the Gospel of Peace, cookies & gummy worms.
Music